SynergyXR User Portal – Admin Manual
This admin manual gives an introduction to the SynergyXR User Portal where administrators can manage users accessing their SynergyXR Workspace.
Users can have one of three Roles:
Admin: the only Role able to create users, change users access rights, and deleting users on SynergyXR User Portal.
Furthermore you have access to the SynergyXR Manager being able to upload and organize your content
Author: gives users rights to create and save changes to Spaces in e.g. SynergyXR. Authors also have access to SynergyXR Manager.
Viewer: gives users rights to view, but not change content in Spaces nor create new sessions.
Login to SynergyXR User Portal
Open an internet browser and navigate to: https://portal.synergyxr.com/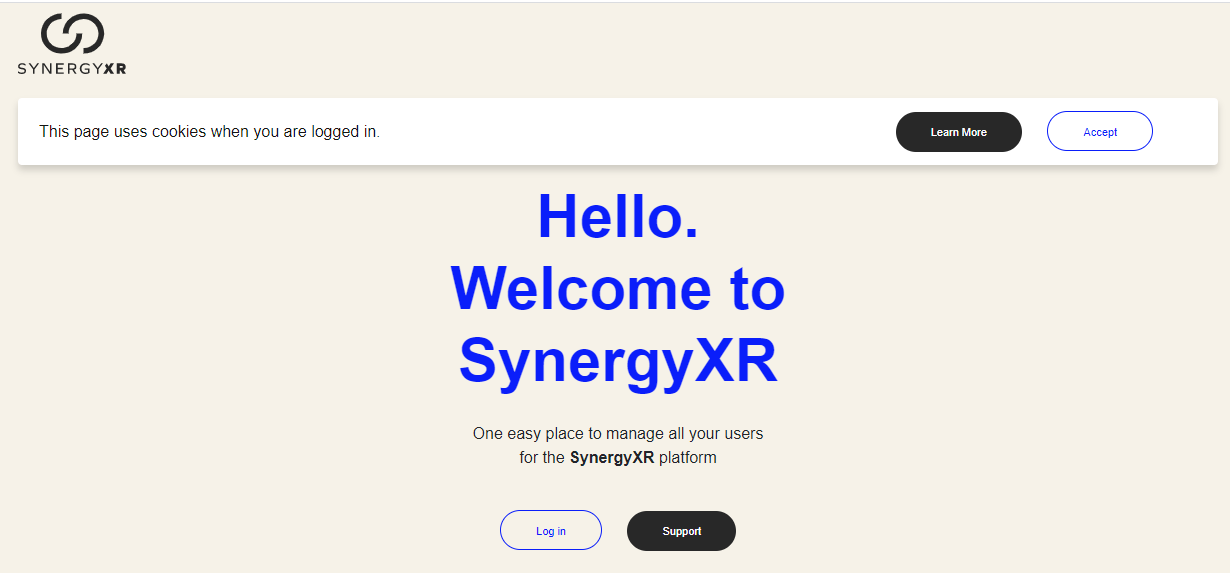 Press the login button and enter the administrator credentials provided. If you select the "Remember me?" option, you will automatically be logged in on your next visit.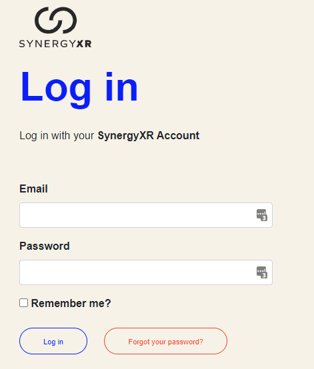 If you have multiple Workspaces available to your user, you will need to select which one to administrate.
You will now get an overview of the users currently active in the chosen Workspace.
Create new user
By clicking "Create new user" you can add a new user to the chosen Workspace. Enter the e-mail of the user and choose the desired Role.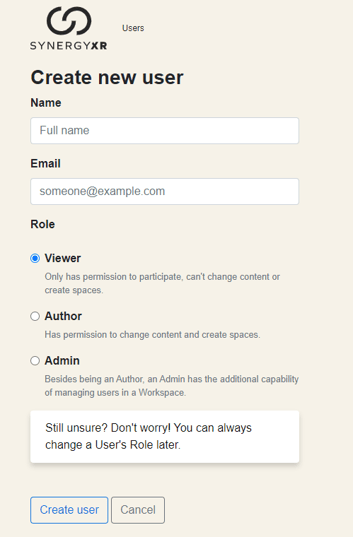 By pressing "Create user" a validation screen is shown that the user has been successfully created.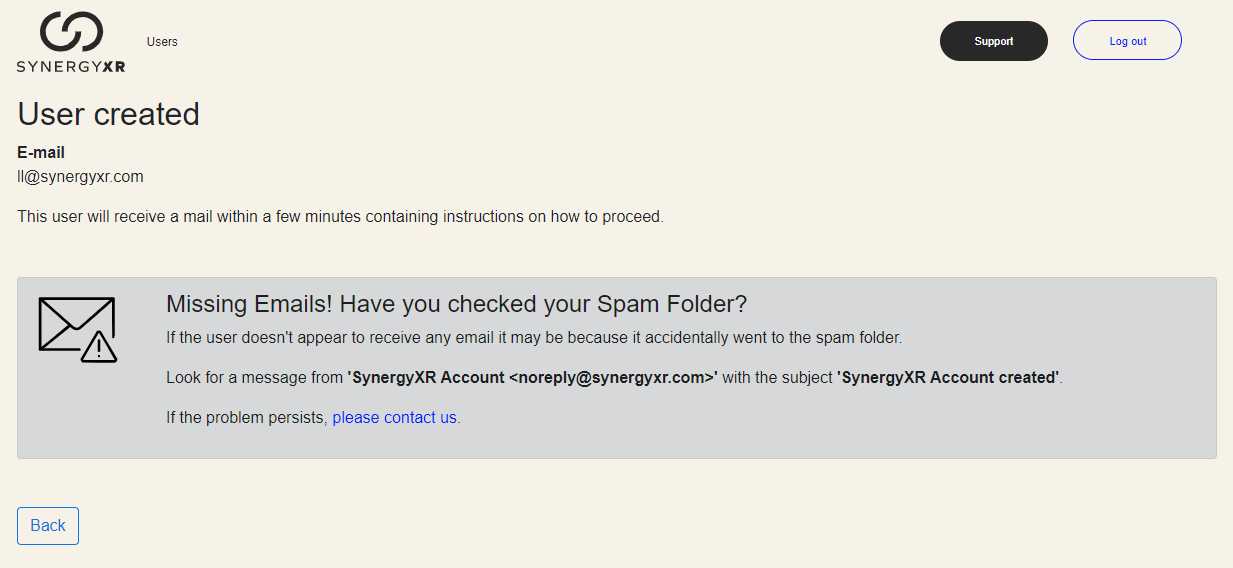 The user will receive an e-mail on the specified e-mail address.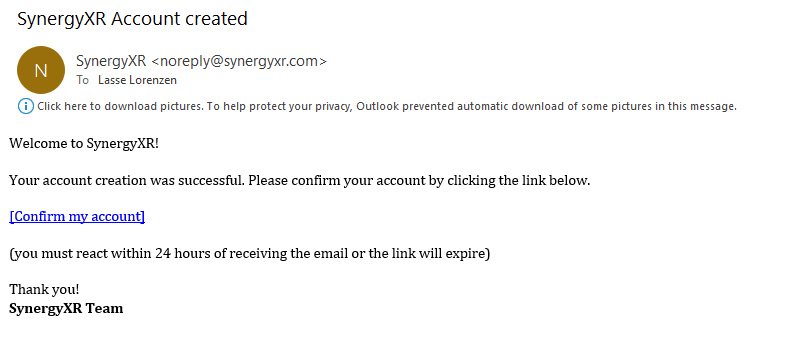 By clicking on the "Confirm my account" link, the user will be taken to Synergy Portal where he/she can specify a password for the account.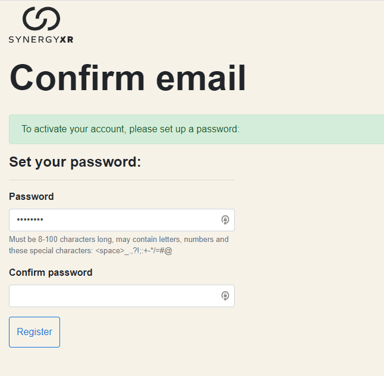 The password must live up to the following rules:
At least 8 characters long.
The following types of characters are allowed:

Lower case characters: a-z
Upper case characters: A-Z
Numbers: 0-9
The following special characters: "Space" ",", "!", "%", "&", "/", "(", ")", "=" and "?"

Choosing a valid password and pressing the "Register" button will result in the user account being crated in the chosen Workspace with the specified Role.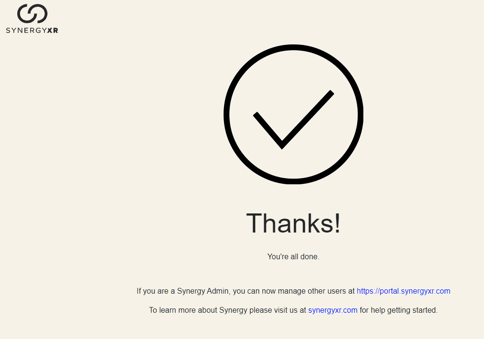 Change user Role in Workspace
Navigate to "Users" and select "Change Role".

Select the new Role from the dropdown and select "Change Role".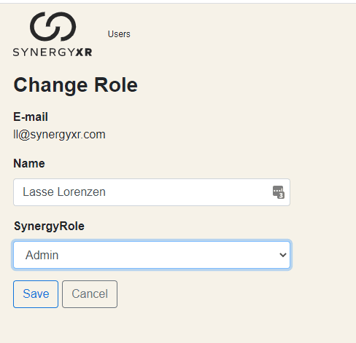 The users Role has now been changed with immediate effect.
Reset user password
In case a user wishes to reset his/her current password, please open an internet browser and navigate to: https://portal.synergyxr.com/ to the login page.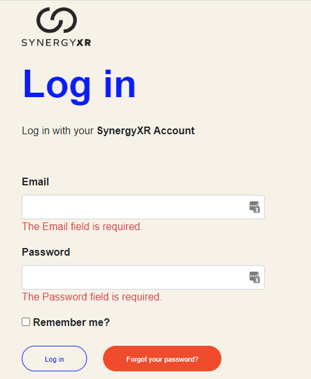 Please press "Forgot your password?"

Enter the user e-mail address and press "Reset password".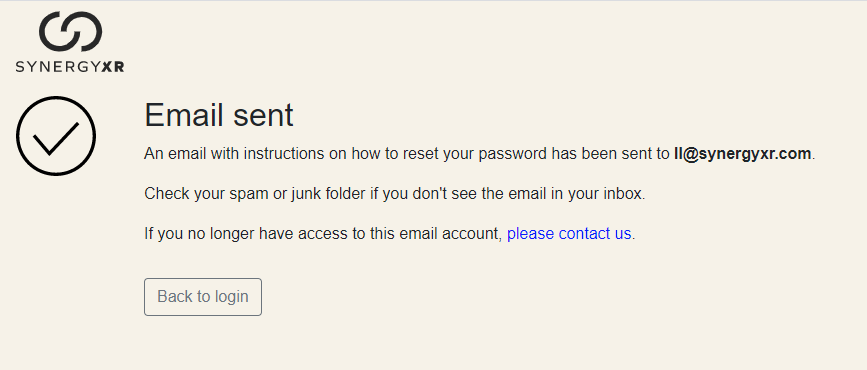 Now go to your inbox and follow the instructions sent to you.
Delete user from Workspace
Navigate to "Users" and press the "Delete" button.

Confirm that you want to delete the user by pressing "Delete".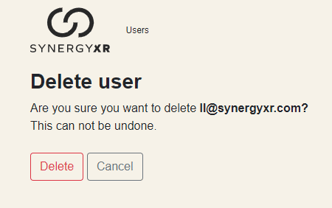 The chosen user has now been deleted, and no longer has access to the Workspace.